Invite Vice President Lori McDonald to an Event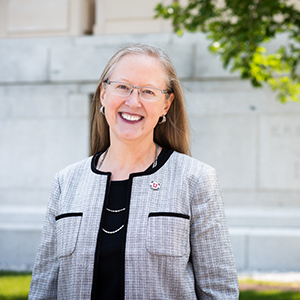 Thank you for considering Lori McDonald, Vice President for Student Affairs (VPSA), to attend and/or speak at your event!
Please submit the online request form at least one month prior to your event.
The Office of the Vice President for Student Affairs will review your request and the VPSA's schedule and reply to the contact provided within five business days.
Preparation Materials
If the vice president is able to attend your event, you will be asked to provide the following material by the noted deadlines:
Six weeks prior to the event:
Event invitation: provide a copy of the invitation, either electronically or hard copy.
Guest list: identify any notable individuals in attendance, providing appropriate context for the vice president.
Five days prior to the event:
Proposed seating chart for the vice president's table and a complete guest list for the event.
Directions/parking instructions: provide a map and directions to the event location and parking (unless the event is at the Eccles House).
If you have questions about the procedure, please call 801-581-7793 or send an email to studentaffairs@utah.edu